Remembering The Special Ones

All of the dogs on this page each had individual qualities that made them special to us. Most unfortunately have gone before their time. No one likes to loose their friends, but maybe, just maybe there might actually be a good reason for it somewhere. But all we have to take comfort in is that we gave them a wonderful home while they were among us. And that they are in a much nicer place now in our memories and in our hearts. ~Stephanie~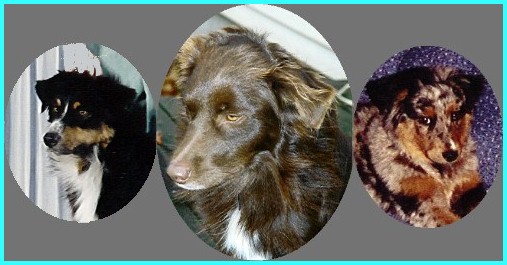 TRUE ~ VICK ~ CHELSEA

"Chelsea"

(Jan 1990 - Jul 1990) She was our first Australian Shepherd. Although she was only with us a few months she has a large place in our hearts. She was my mother's shadow and had a beautiful temperament.

"Vick" Delano's Coppertone Torvick

( July 1991 - Feb 1994) He came to us at the age of two, but it was as if he had lived with us since he was a pup. He heeled like a dream and slept by my side every night.

"True" Manape Tributes True Horizons

(Dec 1995 - Sep 1997) He was a dog who would be forever young at heart. Always clowning around, we had just begun to work as a team when we were forced to go our separate ways. He showed me that there is something special in every dog. True had a hard time getting close to me because I was still looking for what I had with Vick, but he made every effort and finally won.


"Cookie" CH Charbo's Fortune Cookie

(Dec 1996 - Nov 1998) She was a wonderful dog with people and loved attention. Cookie finished easily and was halfway to her Canadian CH. She was an excellent mother and gave everything she had to her 5 surviving pups.

|
HOME
|