The Retired Ladies & Gentleman of Tribute Kennel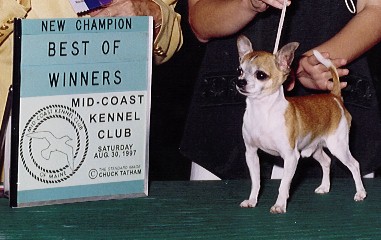 Am/Can CH Charbo's Chanukah Promise TG, CGC
"Topo" is our first Chihuahua and our first champion in breed. We bought him when he was 12 weeks old and up until he turned four he always went to obedience school, preformed for demonstrations, and made a fool out of himself in the breed ring. When Stephanie moved to Hawaii his obedience career ended. His only get, Tribute's Promise Keeper finished both his AKC and CKC CHs. "Topo" resides with Mary Ann Delano in Maine.

Charbo's Fortune Fanny Of Tribute
"Fanny" was purchased from her breeder Bobi Vogt (CHARBO'S) in 1998. Being a "good" six pounds and a little on the long side her show career was set aside and she became one of our foundation brood bitches. She has produced multiple Am & Can CH for us. Since her last litter she has been placed with an elderly couple who live near Mary Ann Delano in Maine.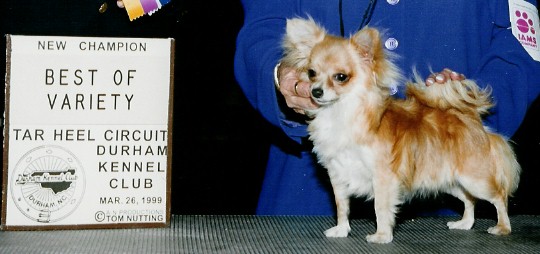 Am/Can CH Tributes Mystic Gift O Luv
"Misty" proved through her offspring that she could not only show, but produce as well. After her last litter she was placed in a loving home in Canada.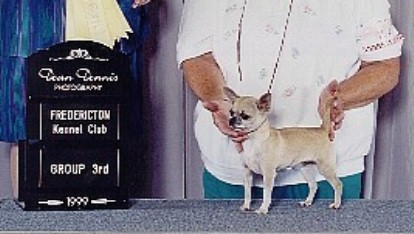 Am/Can CH Charbo's Drum Majorette
"Major"